When faced with an emergency tree situation, finding a reliable and experienced emergency tree service near me is crucial. In this comprehensive blog post, we will explore various aspects of emergency tree removal services, including weather-related emergencies affecting your property's safety and the importance of addressing dead or leaning trees before they pose a risk.
Furthermore, we'll discuss the significance of prompt response in emergency situations to prevent additional property damage and ensure the safety of your family and neighbors. We'll also delve into common weather events that impact nearby trees on your property as well as fungi infestations leading to weakened tree structures.
Lastly, you will learn about regular maintenance for preserving curb appeal and property value along with transparent pricing when it comes to emergency tree service near me solutions. So stay tuned for valuable insights on how to protect your home from potential hazards posed by damaged or diseased trees.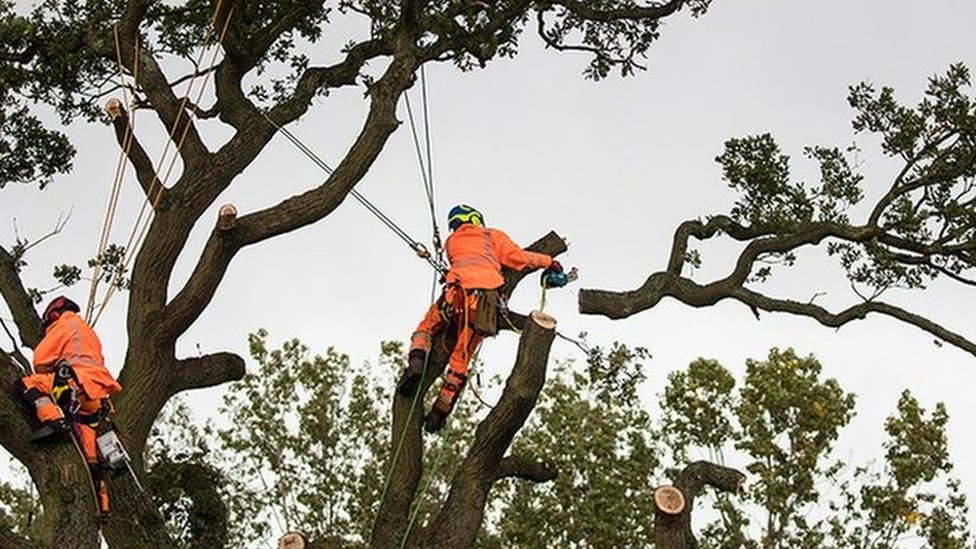 Table of Contents:
Need Emergency Tree Service? Call 718-885-0914
Emergency Tree Services in the Bronx and Manhattan
Owens Tree Bros has got you covered with our professional emergency tree services in the Bronx and Manhattan since 1959.
Weather-Related Concerns Affecting Your Property's Trees
Storms, heavy snowfall, or ice buildup can cause significant damage to your property's trees, posing a threat to nearby structures or power lines.
Addressing Fungi Infestations Weakening Tree Structures
Fungal infestations can weaken a tree's structure, making it more susceptible to breaking apart during strong winds or growing season stressors.
Prompt Assistance for Your Tree Emergencies
Our knowledgeable arborists are available around-the-clock to mobilize crews from unaffected regions so clients receive immediate attention whenever necessary.
Mobilizing Crews for Quick Response Times
Time is of the essence during an emergency, and our experienced crews have the necessary equipment and expertise to handle any type of tree-related emergency efficiently.
Certified Bartlett Arborist Representatives Assessing Potential Issues
Our certified arborists assess potential issues that might not be immediately visible after a storm or other damaging event, preventing further damage and ensuring your property remains safe from future hazards posed by damaged trees.
Dealing with Storm-Damaged Trees
Weather events can significantly impact trees on your property, and our team specializes in addressing storm-damaged limbs threatening nearby power lines.
Removing Hazardous Leaning or Fallen Trees
We offer efficient emergency tree removal services, ensuring hazardous leaning or fallen trees are removed promptly before causing additional damage to your property or posing risks to public safety.
Preventing Damage to Nearby Power Lines
Damaged trees near power lines pose significant risks during storms, and our skilled professionals take extra precautions while removing these dangerous trees.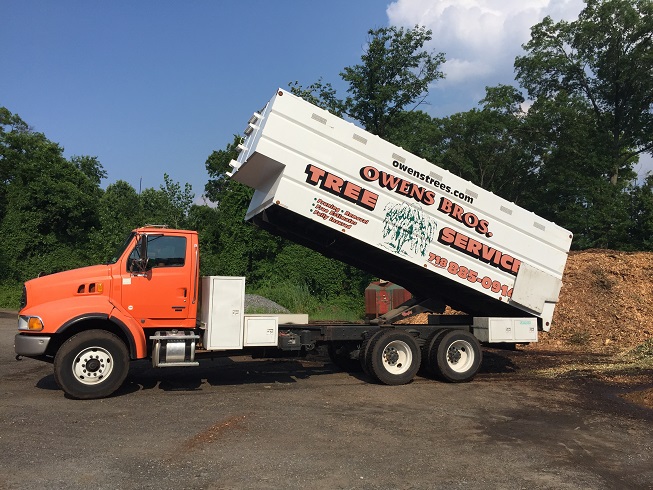 Tree Emergency Quick Response
Tree emergencies can happen anytime, but don't worry, Owens Tree Bros is here to help with our emergency tree removal services.
Emergency tree removal: Our certified arborists are available 24/7 to provide prompt assistance during emergencies related to your trees.
Thorough inspection: We'll inspect your property for signs of diseased, dead, or damaged trees that may pose a risk.
Preventative maintenance: Our team offers comprehensive solutions tailored towards preserving overall health & longevity within landscapes affected by natural disasters.
Specialized equipment: We take all necessary precautions while working on-site, including using specialized equipment designed specifically for tree removal and trimming tasks.
We have extensive knowledge about various tree species and their specific needs during different growing seasons. Dennis and his team carefully evaluates each tree on your property and recommend appropriate measures based on their findings.
At Owens Tree Bros, we prioritize getting our teams out quickly with all the necessary equipment to handle any tree-related issue you might be facing. Dial 718-885-0914 right away if you think a tree on your property is causing problems or help is needed after a bad storm.
Trust our team to work diligently to address any hazards and minimize potential damage to your property. We understand the importance of safety in these situations, ensuring peace of mind and expert care for both you and your trees.
Storm-Damaged Trees? No Problem.
Strong winds, rainstorms, and hurricanes can wreak havoc on your property, but don't worry – Owens Tree Bros has got you covered with our emergency tree services.
Removing Hazardous Trees
Our certified arborists are experts in dealing with emergency tree removal situations involving diseased, dead, or damaged trees.
Diseased Trees: Fungi infestations can weaken tree structures making them susceptible during storms.
Dead Trees: Deadwood is more likely to break off during high winds causing potential harm.
Damaged Trees: Broken branches from previous storms could become hazardous projectiles in future events.
If you notice any of these issues after a storm, contact us for professional assistance.
Preventing Power Line Damage
Fallen or leaning trees near power lines pose significant safety risks, but our emergency tree removal services prioritize dealing with these hazards to ensure your community remains safe and functional during recovery efforts.
Regular tree trimming during the growing season can help prevent storm damage in the first place.
Trust Owens Tree Bros for prompt assistance and expert care. Contact us for a free estimate today.
Need Emergency Tree Service? Call 718-885-0914
Regular Maintenance for Property Preservation
Proper tree care is essential to maintaining the health and appearance of your property.
Regular maintenance plays an integral role in preserving both curb appeal and overall property value.
Trimming flowering plants alongside larger locust varieties enhances visual appeal and guarantees satisfaction from courteous teams.
Importance of Regular Tree Maintenance
Maintaining your trees regularly can help prevent potential hazards such as diseased, dead, or weak limbs that could pose a risk during storms or high winds.
Addressing these issues early on can avoid costly emergency tree removal services and keep your property safe from damage.
Tree pruning: Removing dead or damaged branches helps promote healthy growth while reducing risks associated with falling limbs.
Insect and disease management: Proactively treating infestations can prevent further damage to your trees, keeping them strong throughout the growing season. Learn more.
Cabling and bracing: Installing support systems for weakened or structurally compromised trees can prolong their life while minimizing safety concerns.
Enhancing Curb Appeal and Property Value
A well-maintained landscape adds value to your home by increasing its curb appeal.
Potential buyers are more likely to be attracted to properties with healthy, attractive trees than those suffering from neglect.
Mature trees provide numerous benefits such as shade, privacy, and even energy savings by reducing cooling costs during the summer months.
Investing in regular tree maintenance services from certified arborists like Owens Tree Bros ensures your property remains beautiful and valuable for years to come.
Remember that caring for your trees is an ongoing process, requiring attention throughout the year.
It's crucial to have a reliable team of professionals on hand who can provide prompt assistance when needed.
Owens Tree Bros is committed to helping you maintain a safe and visually appealing property at all times, including emergency tree removal services.
Key Takeaway: 
Regular tree maintenance is crucial for preserving the health and appearance of your property, as well as preventing potential hazards during storms or high winds. Proactive measures such as pruning, insect and disease management, and cabling/bracing can prolong the life of trees while enhancing curb appeal and property value. Owens Tree Bros provides reliable professional services to ensure a safe and visually appealing property at all times, including emergency tree removal when needed.
Quick and Reliable Emergency Tree Removal Services
Trust Owens Tree Bros for prompt and efficient emergency tree services during stressful situations.
Upfront and Competitive Pricing
Get transparent pricing and avoid hidden fees with Owens Tree Bros' upfront pricing for emergency tree removal.
Clear Explanations of Necessary Procedures
Stay informed with detailed explanations of procedures for damaged, diseased, or fallen trees from certified arborists.
Prevent emergencies with regular maintenance checks during the growing season and avoid storm damage to nearby power lines.
Partner with Owens Tree Bros for top-notch service and customer satisfaction in emergency tree removal.
Call 718-885-0914 for assistance with all your emergency tree removal needs.
Quick and Reliable Emergency Tree Services
When trees pose a risk to your property, you need a professional and dependable service provider like Owens Tree Bros that offers emergency tree removal services and free on-site estimates.
Free estimates: Call us at 718-885-0914 to request a free estimate for your emergency tree situation.
Expert evaluation: Our certified arborists will visit your property to assess the situation and provide a detailed written estimate.
Transparent communication: We prioritize clear communication about pricing, procedures, and timelines to ensure customer satisfaction.
Our team of experts is equipped to handle any emergency situation, from fallen trees to damaged trees due to storm damage.
But we don't just offer emergency services – we also provide regular maintenance services like tree trimming to keep your property safe and visually appealing during the growing season.
Don't wait until it's too late – schedule regular check-ups with our knowledgeable professionals to identify potential problems early on and prevent costly damage down the line.
Call Owens Tree Bros at 718-885-0914 for a free estimate and quick, reliable emergency tree services.
FAQs in Relation to Emergency Tree Service Near Me
What's the Cost of Tree Removal in Your Area?
Tree removal costs vary depending on location, size, and complexity, but generally range from $150 to $1,500 or more.
For an accurate estimate, it's best to contact a local professional for a free quote.
How Much Does it Cost to Remove a Tree in New York?
Removing a tree in New York typically costs between $200 and $2,000, depending on factors like size, accessibility, and condition. We do free on site evaluations and consultations.
For an accurate assessment tailored to your needs, consult with us.
Conclusion
Don't panic, just call us for quick and safe tree removal near your location.
Don't wait for a storm to hit or a fungus to spread, regular tree trimming can keep your property looking sharp and increase its value.
At Owens Tree Bros, we offer transparent pricing and free onsite estimates for all your tree service needs.
Don't risk your safety or your property's, contact us today for immediate assistance or visit our website for more information on our services.
Trust us, we know trees better than Groot.
Call 718-885-0914