When it comes to damaged or hazardous trees, your best option is often to contact an emergency tree service. If you have damaged trees or broken limbs in your yard, they may be hazardous. They could damage your house or car, or they could down power lines. For the safety of your family and home, here are some steps you can take when damaged trees are causing issues on your property.

Signs To Look For – When Should You Call a Tree Service?
Not sure whether it's time to contact an emergency tree service? Look for the following signs:
Fallen and Hazardous Trees
When trees are damaged or diseased, they can fall out of nowhere if left unchecked. Weather events like windy days or a few days of rain can be enough to topple an affected tree. Here are some easy measures you can take to minimize the danger of someone getting hurt or incurring property damage if a tree is hazardous, or if it already fell:
Make sure the area around the tree is safe before you investigate. It might just be the right move to call a tree expert for a hazard assessment.
Second, check around to see if there are any broken electrical or utility wires or damaged property. If so be read to take photos for the insurance company.
Contact an emergency tree removal service to get the tree assessed and dealt with.
Rainy Weather
Soil erosion can be caused by a variety of factors, but it happens more often during wet weather. When soil is washed away due to rainy weather or floods, it may compromise the stability of nearby trees by decreasing root support. To check on erosion issues, survey the trees on your property after heavy rains or severe storms. If any of them are broken or hanging oddly, beginning to fall, or have roots that are visible, it's time to call an emergency tree service.
Storm Damage
Severe weather can inflict a lot damage on trees. After a strong rain or storm, check for damage to property and trees. An emergency tree removal service should be called immediately if a tree's trunk is resting on another tree or structure, or if its condition is a potential hazard to your house or electrical lines. Also, examine the soil and roots. Heavy rainfall or flooding may create higher levels of erosion on your yard or property, putting your trees in danger.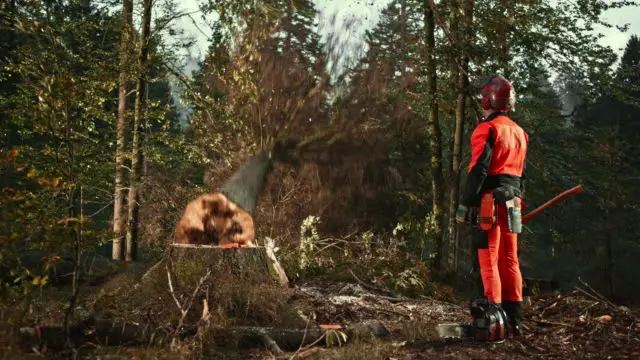 Aging & Diseased Trees
Untreated tree disease can cause severe harm to you trees. Over time, various diseases and/or pests can weaken or kill a tree. Indications of a sick tree include fragile bark, irregular leaves, fading leaves, dying limbs, ant or bug infestations, excessive fungi, or weak or knotty roots. In addition, trees with these issues, or their branches could:
Fall at any moment, endangering the surrounding environment, cars, and individuals.
Bend dangerously near to a power cable, rooftop line, or adjacent sidewalk.
Call an Emergency Tree Service When the Unexpected Happens
Trees are wonderful, yet they can create hazard in our yards when they're unstable. Moreover, hazardous trees can cause problems unexpectedly. They don't always fall where or how you'd expect. Sometimes avoiding these issues can cause real headaches down the road.
If in doubt, call an emergency tree service right away. Putting off dealing with a sick or leaning tree only allows the problem to get worse.
When your family, your property, or your other trees are at risk from a falling tree or branch, don't put it off. Call Owens Bros Tree Service Today!