Tree Trimming Services in Manhattan: Taking care of your trees can be hard, especially if you don't have the right tools. Don't take a risk in potential damage to your property, or harm to yourself or others. If you are a busy person and don't have the time to take care of your trees or you are not confident enough with your landscaping skills, hiring a professional can ease your worries. Through acquiring tree trimming services, you are assured that the trees in your landscape are in good hands.
Tree Trimming Services in Manhattan – Why You Need Them
Manhattan is one of the busiest and most densely populated cities in the world, and as a result, there are countless trees and shrubs that require regular maintenance to keep them looking healthy and vibrant. For residents, property owners, and business owners in Manhattan, Tree Trimming Services are an essential part of maintaining their property. In this article, we will explain why tree trimming is important and how the services of a professional tree trimming company in Manhattan can benefit you.
Why Tree Trimming Matters
Trimming your trees cuts back the dead or decayed limbs or branches, and this helps them grow healthy and improve their appearance. Residential and commercial property owners alike rely in tree trimming services to ensure the health, and safety of their trees.
For trimming trees on your property, there are different tools you can use, but for larger trees you really need to call in the pros! For smaller limbs and branches, you can use shear's, or even a chainsaw. For pruning, shears are the most used tools by residential property owners, which can be a hand shear or a lopping shear.
Tree trimming also helps keep trees healthy. Regular trimming removes dead or diseased branches, which helps prevent the spread of disease to the rest of the tree. Trimming also promotes new growth, which can help trees recover from any damage they may have sustained. Additionally, regular trimming can help keep trees in proportion, so they look more aesthetically pleasing.
When to call in the tree pros?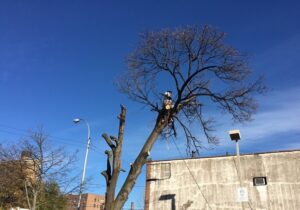 It's important to state again that trimming trees can be very dangerous. You should never try and trim a tree that you believe is at risk of falling. Also, if the tree is large, it can be very dangerous trying to climb it with a ladder, and trim branches yourself. This is why it is advisable to search for a tree company in Manhattan for any tree care needs you may have!
Not working with Manhattan Tree Pros can result in serious harm to yourself, or anyone near the tree.
Also, it is important to understand local laws regarding trimming trees on your property, especially if they overlap the property of others, or are near electrical lines. All of these reasons make it very wise to consult with a tree trimming company as they will know how to safely, and effectively trim your tree!
Tree Trimming Services in Manhattan
If you are looking for professional tree trimming services in Manhattan, there are many things that a reputable tree trimming company can do for you. The following are just a few of the services that you can expect:
Pruning: This is the process of removing dead, diseased, or overgrown branches from trees. Pruning helps to maintain the health of trees and also helps to keep them looking neat and attractive.
Crown Reduction: This is a type of pruning that involves removing the top of a tree to reduce its overall height. This can be useful if you have trees that are growing too close to buildings or power lines.
Crown Thinning: This type of pruning involves removing some of the branches from the crown of a tree. This helps to reduce the overall weight of the tree and also improves its appearance.
Tree Removal: This service is necessary if you have trees that are dead, diseased, or damaged beyond repair. A professional tree trimming company can safely remove the tree without damaging your property.
Stump Grinding: This service involves removing the stump of a tree that has been cut down. This is necessary if you want to plant a new tree in its place or if you simply want to clear the area.
Benefits of Hiring a Tree Company in Manhattan
There are many benefits to hiring professional tree trimming services in Manhattan. The following are just a few of the advantages you can expect:
Expertise: A professional tree trimming company has the knowledge and experience to properly trim and maintain trees. They are trained to identify any issues with trees and to take the necessary steps to address them.
Safety: Tree trimming can be a dangerous task, especially if you are not experienced or if you have large trees that need to be trimmed. Hiring a professional tree trimming company ensures that the job is done safely, without putting yourself or others at risk.
Time-saving: Trimming trees can be a time-consuming task, especially if you have multiple trees or if the trees are large. Hiring a professional tree trimming company allows you to save time and focus on other things, while they take care of your trees.
When you're online searching for the best tree service in Manhattan it is important that you make the right choice; and Owens Trees is that right choice! We provide 24/7 service to Manhattan and when you need us we will be there, fast! Call us now at 718-885-0914 for a free quote.